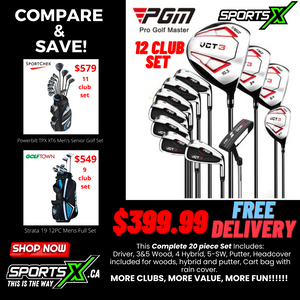 Have You Heard The News?
Have you heard the news?
SportsX is hosting a MASSIVE summer time golf club sale. 
The brand PGM or Pro Golf Master; boasts some of the best beginner/intermediate golf clubs on the market. Breaking into the industry with WHOLESALE pricing, we can guarantee that our pricing and value cannot be beat.
This summer, you can claim up to 30% off BRAND NEW, ALREADY MARKED DOWN golf clubs.
With multiple sets moving per day, we're almost certain that this deal is only going to last as long as our stock - which isn't much longer.
We strongly encourage you to browse the golf selection on our website to claim your deal now!
Get your discounted clubs here 
If we could get every single beginner golfer kitted out with this product, we absolutely would. Unfortunately, this summer, our stock is limited.
Don't hesitate to shop now, give us a call at 604-554-0104 or stop in and visit us at 2275 Elgin Ave, Port Coquitlam, B.C.
We're super eager to serve you!
---