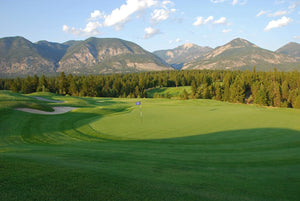 3 Golf Courses to Visit in BC
British Columbia is riddled with beautiful mountains, valleys and landscapes that make this province a golf course architect's dream. Today, we will be listing three of our favorite golf courses in B.C.!
#1. Greywolf Golf Course
Graywolf Golf Course - Hole 6 - Cliffhanger
If this was a list of British Columbia's must-see holes, Graywolf's sixth hole-- better known as Cliffhanger -- would be at the top of that list. Stretching 200 yards, Cliffhanger is all carry over a deep gorge to a putting surface that seems to teeter on the edge of the wilderness. This tee shot is so much fun that you'll want to play it twice! You may have to if your ball ends up in the bottom of the Toby Creek Valley anyways! Graywolf Golf Course sits in the shadow of the ski slopes at Panorama Mountain Village and is at the top of our "Must-See" golf course list!
#2. Tobiano Golf Course
Tobiano Golf Course is situated in one of the most stunning, pristine and unaffected areas of the province, Capturing the essence of B.C.'s semi-arid desert climate, and panoramic vistas, here you will find some of the most remarkable landscape in the province. Few settings in Canada are better than Tobiano's rugged lakeside terrain with views of Kamloops Lake from every hole. Tobiano is one of the finest, most picturesque golf courses anywhere.
#3. Eagle Ranch Resort
Eagle Ranch is a distinctive resort set amongst the unspoiled splendor of B.C.'s Columbia Valley. The course is located in the 'sunbelt' of the Canadian Rockies, enjoying mild temperatures that offer an early start and a late end to the golf season. Perched on bluffs overlooking the Columbia River, world-renowned wetlands and the shimmering blue waters of Lake Windermere, this beautiful setting is further elevated with majestic 360-degree views of the Rocky and Purcell Mountain Ranges.
---